This is merely a list of suggestions, any reply to this topic with more suggestion will likely be added to the main post, so feel free to suggest some personal favourites or just generally guns you think would fit well into the game.
NOTE: I'll be updating this as I wasn't able to finish all of my suggestions, meanwhile you're welcome to add your own suggestions aswell.
Assault Rifles
By definition a gun that "features an intermediate cartridge and detachable magazine"
A-91 Bullpup
A russian bullpup AR that sees limited use. Ejection port is especially friendly to left-handed users and any used cartridges being ejected will stay quite clear of your face.
In use by GRAU in limited numbers.
AKM
Standardized AR in many middle-eastern countries, chambered for 7.62x51.
In use by a plethora of middle-eastern countries Armed Forces and also PMC.
AK-12(400 series)
Newest version of the AK-12 featuring simple ergonomic changes to the regular AK series, like pistol grip, magpul stock and a top mounted rail extending into the handguard also equipped with rails.
In use by GRAU.
AN-94
Personal favourite weapon of all time, features a 2" dispersion 2rnd burst mode and unlike regular burst modes on guns it doesn't go click-click-click but rather cli-click allowing for follow-up shots of another dimension.
In use by GRAU.
AS-VAL
Suppresed AR chambered for 9x39 which is quite a special cartridge. Same properties as 7.62x51 but fit to accomodate a 9mm bullet, meaning it is effectively 9x19mm but has about twice as much stopping power, usually known as the 'armor shredder'.
In use by GRAU and Georgian Armed Forces.
M16A4
An armalite assault rifle chambered for 5.56x45 NATO. It was the first of it's kind and is exclusive to semi-automatic and burst fire modes.
In use by almost every countries Armed Forces.
Carbines
The definition of a Carbine is in essence "a shortened and more compact version of their original counterparts"

AKS-74U
Shorter barreled AK-74 with no re-chambering still rocking the 5.45x39
In use by GRAU.


G36-C
Extremely compact carbine.
In full service by Bundeswehr.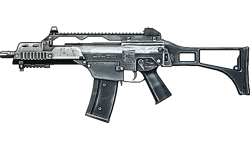 M4 series
Shorter and more advanced version of the M16 series. It evolved from the M16's semi-automatic/burst fire to full fledged automatic fire.
In use worldwide by almost every military.
Submachine Guns:
By definition similar to a Carbine "shortened, and magazine-fed" but designed to fire pistol cartrigdes usually resulting in higher RPM and more devastating damage in CQC.

P90:
Most popular bullpup SMG worldwide.
In use by GIGN, JTF2 and US Secret Service.
PP2000
Extremely compact SMG.
In use by Armenian Special Forces.
MP7
Extremely compact SMG.
In use by Spetsnaz and several other Special Forces.
MP5
Standardized SMG made by H&K and is currently the most used gun in the world.
In use by every single country, typically Special Response Units.
PP-19-01 Vityaz
Modernised version of the PP-19, with picatinny rails to mount attachments.
In use by Russian Military and Police forces.
LMG(Light Machinegun):
By definition guns meant to suppress and pin enemies, using typically larger magazines or belts. Has to be mounted or completely stationary to fully utilize it's strengths.

LSAT
Experimental gun that isn't yet in full production. It is said to weigh half of any current LMG and utilize an advanced spring system that makes controlabillity and reliability top of it's class.

M249
A standardized LMG chambered for 5.56x45 NATO
In use by US Armed Forces
Mark 48
This is an M249 chambered for 7.62x51 NATO
In use by US Armed Forces

PKP
Russian LMG chambered for 7.62x54MMR
Used by over a dozen middle-eastern countries Armed Forces
Last edited: